1,000 Words is what our clients have to say about one of their favorite images from their wedding.  Here is what Travis had to say about Azul:
As a photojournalist myself, I was pretty picky about choosing a wedding photographer to document my day. I spent a lot of time researching wedding photographers in the Raleigh area, and I was so happy to come across Azul.  They stuck out because for their ability to beautifully capture genuine moments.
When the wedding rolled around, Kerry and I both had a lot on our minds.  One thing we did not have to worry about was the photographer. 
Christobal
was a total professional.  He was calm, prepared, unobtrusive, and willing to adapt. Basically, he was the opposite of me on that particular day, and that's exactly what we needed.
We were pretty sure the pictures would be great before we had even seen them…and they were. It was hard to pick a favorite image, but one that really touched our hearts was the moment between Kerry and her grandmother, "Nan". Nan is 83 years old and it was her goal to make it to our wedding day. In between portraits (a time when most photographers are frantically trying to figure out which group is next and where to put them) Kerry took a second to thank her grandmother for being there. Moments like this happen very quickly, but they speak to a lifelong relationship.  Not only were we thankful to have Nan there, we were fortunate to have a photographer around who made sure we would never forget it.
Kerry and I had been together for nearly 10 years when we got married.  We had guests from childhood, high school, college, grad school, and our professional lives. This was the one day they would all converge in one place, and like so many others the day flew by. What we have now are pictures, and thanks to Azul Photography we could not be happier!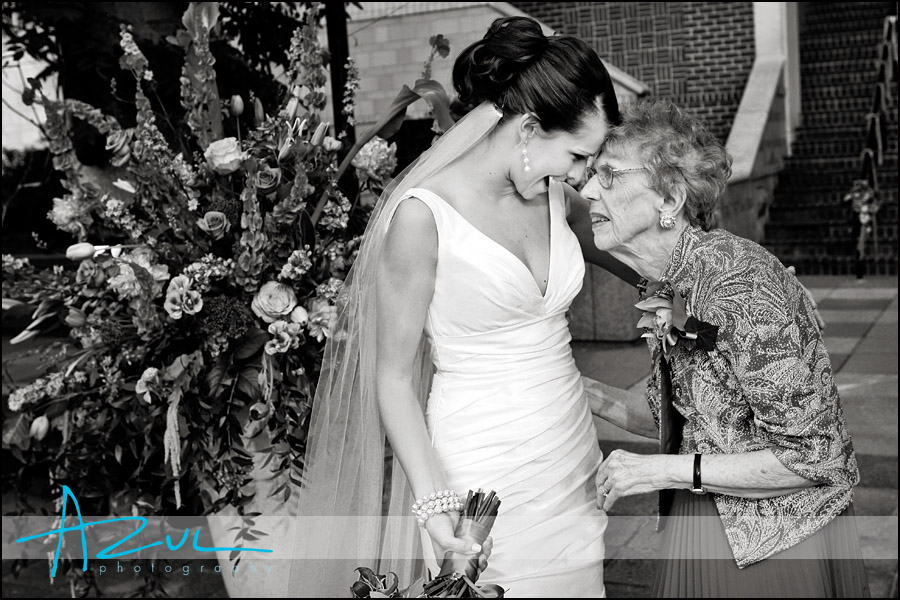 CONTACT AZUL ABOUT YOUR WEDDING PLANS:
info@azulphotography.com | 919.270.4310