1,000 Words is what Raleigh, NC based Azul Photography clients have to say about their favorite photograph from the wedding. Here is what Ashley had to say:
I was born and raised in North Carolina, and I always knew I wanted to study journalism, so it was natural for me to attend UNC Chapel Hill's School of Journalism and Mass Communication. Once I was accepted and began my studies there, I wanted to experience all that Chapel Hill had to offer. That led me to discover the Carolina Inn. Once I walked in, I found it breathtakingly beautiful. When my parents and grandparents came to visit me on campus, I showed them around as well, and I made a point to proclaim that I would one day get married at the Carolina Inn and dance with my new husband on top of the beautiful black and white checkerboard floor of the Old Well Room. My mom and grandmother agreed, although that dream seemed far away at the time.
Years later, I met Matthew and my life was forever changed for the better. When Matthew proposed and it became time to look at wedding venues, my first venue tour took me back to the Carolina Inn. Along with my mother and grandmother (who I think were more in love with the Inn than I was!), we all agreed this was the place that I should get married and readily signed the contract. Most excited of all, I believe, was my grandmother!
My grandmother was my best friend and my biggest source of inspiration. She and I were like two peas in a pod! When she unexpectedly passed away two weeks after booking the Inn, it was a gut-wrenching loss from which I will be perpetually recovering. What I do appreciate and reminisce fondly upon is the fact that she saw the Old Well Room and knew that was where I was to be married, and that she met Matthew and loved him!!
Though she wasn't physically with us on the day of our wedding, I felt her presence surrounding us. It was as if she was standing in the shadows of this photo as we shared our first dance as a married couple. I imagined her there and I knew she'd be proud. Those emotions were captured in this image, along with the happiness I felt being married to Matthew. And I'm sure my grandmother was watching us from above dance our first dance across the black and white checkerboard floor.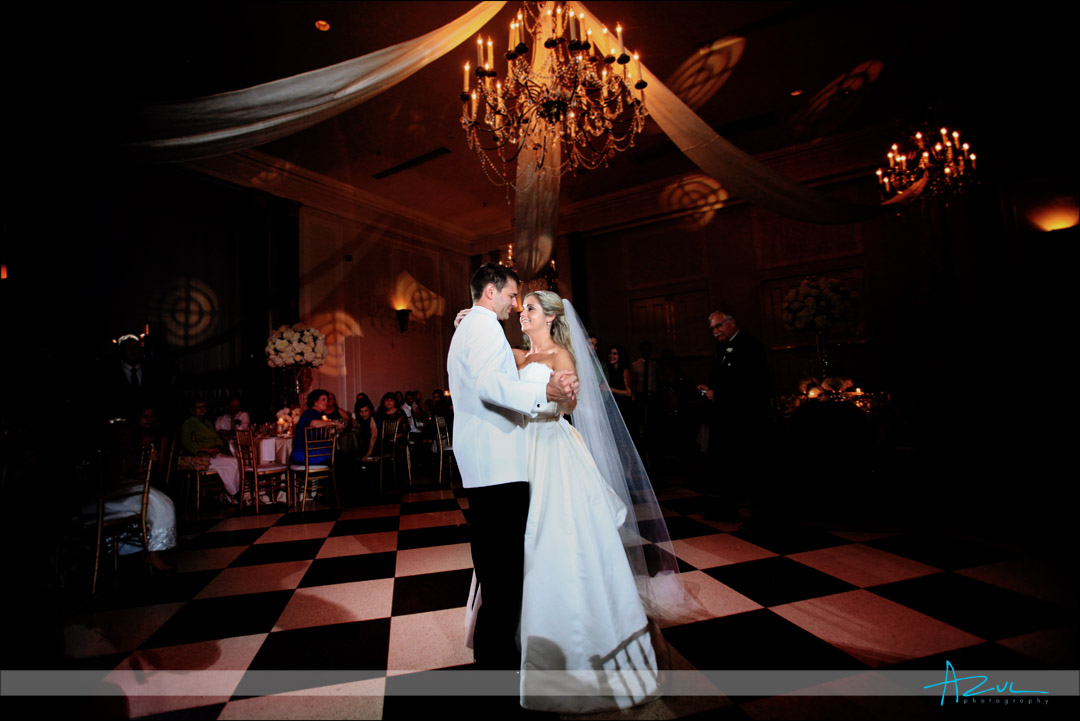 CONTACT AWARD-WINNING AZUL ABOUT YOUR WEDDING PLANS:
info@azulphotography.com | 919.270.4310